Check out my ebook at Booklocker.com

Recipe to Raise RESPONSIBLE TEENS by AGE 5 is a straight-forward, common sense guide to parents, based on half a century of actual, hands-on experience, not mere theory. It doesn't matter whether you are married, divorced, single, or a step-parent, you can raise RESPONSIBLE TEENS.

Click on the link below to go to the Booklocker page for this great and timely ebook!
http://www.booklocker.com/bookpages/raising.html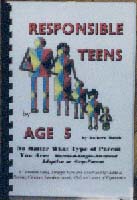 Another book recently published is called, The DARK SIDE of SURGERY. It's a revealing look at one of medicines well kept secrets. After surgery, I had a reaction to the anesthetic, and was delirius with hallucinations for over ten days. The most amazing thing about this fantastic experience, is that I remember it all so clearly. Quite an interesting story and it will help anyone facing surgery to be better prepared than I and my husband were for the possibilities of post-surgical abnormalities!
To purchase it, go to:
http://www.virtualbookworm.com/thedarksideofsurgery.html
Search Engines
AltaVista You know us as the Internet's original search engine.
Lycos One of the most visited hubs on the Internet reaching one out of every two web users.
Yahoo! With over half a million sites divided into more than 25,000 categories, Yahoo! is both browseable and searchable.
InfoSeek GO Network is a new brand that brings together the very best of the Internet in one, easy to use place.
Favorite Sites
Recipe to Raise RESPONSIBLE TEENS by AGE 5 A non-nonsense, entertaining guide for parents!
Doll Designs by K Costomized Dolls & Original Collectible Costumes by K.
My RESUME Check out my experince, skills, published work and other pertinent info.
Women's Health & Herbs A series of articles on Suite 101 dealing with Women's Health and Herbs, written by Kathern Welsh.
Words of Hope
Inspirational writings and poetry!